One
Rings As Symbols
While most may associate rings with weddings, they have long been used as symbols. Easy examples are the ornately carved signet rings of the past, which were used to seal everyday documents while also marking the wearer's status and wealth. While we don't have the same need for signet rings as say the ancient Egyptians, they still have a style that's hard to forget. Their flat top can be carved with initials, emblazoned with your zodiac or set with precious stones like diamond or onyx. Many choose to wear signet rings on the pinkie finger, but when it comes to styling, it's really up to you. Find a finger that feels right, and rock it!
TWO
Go Wild
Vintage rings allow you the opportunity to explore different shapes and styles. If you're looking for something a bit more modern, try a retro cocktail ring from the 50s or 60s. Chunky, funky and full of color, mid-century cocktail rings are fun and playful. Available in a plethora of styles from geometric eye-catchers to playful gems in fun shapes that invite us to get closer to nature. Animals have also always been a popular motif for cocktail rings. Vibrant, oversized rings like this green enamel ladybug ring pair perfectly as a statement with any ring stack. You can also bring a bit of the outdoors anywhere you go with the enamel snake ring that wraps gracefully around the finger, adding a distinctive touch to any ensemble. Show off your natural intuition with the domed owl ring from the 1960s. Its bold shape and star sapphire cabochon eyes are the perfect compliment to your ring collection.
THREE
Domes Of Color
Domed styles, sometimes called bombé rings, provide an excellent opportunity to go big. First gaining popularity in the Edwardian period, domed rings evolved, getting larger and including more eye-catching designs. The oversized rounded shape was the ideal canvas for designers to play with, and the style has seen infinite unique variations. Bombé rings really took hold in the Hollywood era of the 1950s and 60s. The oversized domes played well to the camera and gave women the Hollywood starlet feel when they flashed their gaudy baubles. Domed cocktail rings are a great way to infuse a swirl of color or play with gemstones in a bold way. Turquoise is a fantastic choice for oversized opulence and screams summer cool. Take this stunning piece by Recreo that merges the coastal blue tones with an oversized dome that crashes into a galaxy of gold starfish. This maximalist stunner envelopes the finger in an over-the-top ode to the sea.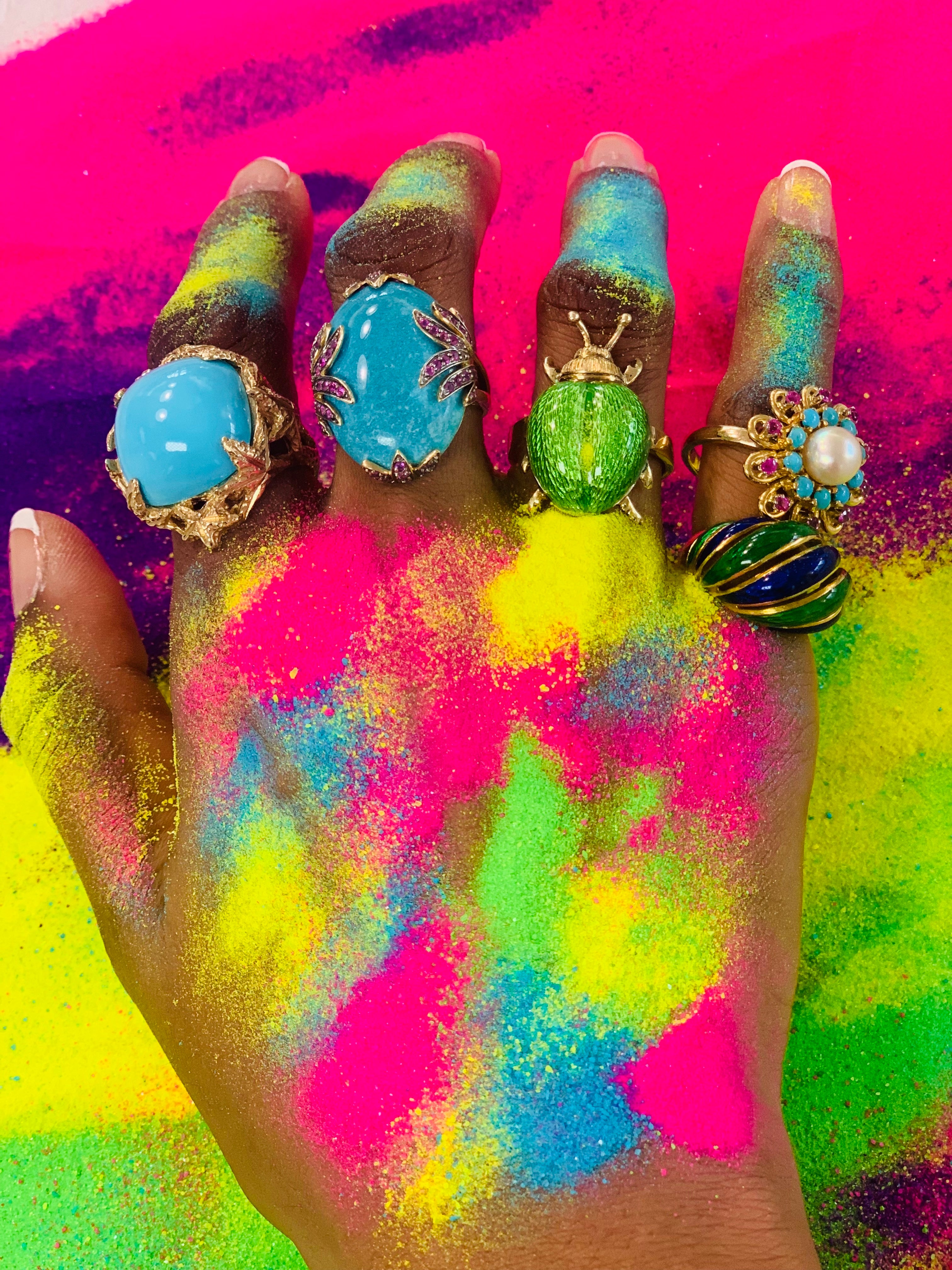 FOUR
Gem-Set
If you're looking for something subtle, a gem-set vintage ring is an excellent option, which can convey many meanings. A ring set with your birthstone, a lucky symbol, or a talismanic gem can give it that personal touch. Gemstones have been used for centuries to ward off ills. Archaeologists recently discovered an amethyst ring in Israel that they believe was used to ward off hangovers. While these gem-set rings may not keep headaches at bay, they will definitely lift the spirit with their bright color and simple finish. Easily dressed up or down, gem-set vintage rings like this Turquoise and Ruby Floral creation by Recreo make a chic addition to your jewelry wardrobe with their sumptuous color and playful energy.