edited

your

way

It's time to embrace a new conversation about jewelry — one that highlights sustainability, quality and diversity.
IN THE NEWS
BUSINESS OF FASHION
The designer and entrepreneur's online collective just debuted its first pop-up store on a luxurious strip in New York — featuring mostly women and minority designers —as she aims to shake up a notoriously exclusive sector.
Read The FULL STORY
IN THE NEWS
RADICAL JEWELRY MAKEOVER
"Encouraging people to be more thoughtful about the kind of jewelry they buy is a huge mission at the Jewelry Edit," she said. And the 50 designers on the cooperative's e-commerce platform are similarly invested in ethical jewelry production...
learn more
Our
Promise
Our experts are privy to some of the most socially responsibile and sustainable brands, which means you won't find any mass produced pieces here. We introduce you to a whole new world of ethical, fair-trade companies that produce high quality pieces to last a lifetime.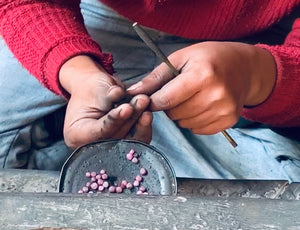 Hand Crafted + Small Batch
no mass
production
No more secrets about where your jewelry comes from.
SHOP ALL
CAREFULLY CONSIDERED
expertly
curated
Finding diverse and inclusive designers is a top priority.
SHOP new arrivals
"The Jewelry Edit is offering a more personal buying experience with a resident stylist who'll curate a relevant and long-lasting jewelry wardrobe."
"The jewelry industry veteran Rosena Sammi founded The Jewelry Edit on the premise that access to styling advice should be democratized. The website offers a selection of pieces from $50 to $4,000, with an emphasis on creations by Black and Asian designers, as well as those focused on sustainability."
"Sammi's goal was twofold: make jewellery buying easier for shoppers while giving a boost to designers of colour. "During my years as a designer, I don't think I ever met a buyer for any major retail store that was diverse," said Sammi. "That reflects what is brought onto the store floor.""
what our customers are saying
Sometimes you find the perfect piece of jewelry online, and when you unbox it, it's tiny and disappointing.  I love having a stylist to explain scale and weight so there are no surprises

Michelle W.
When getting dressed jewelry was always something I wasn't sure how to get quite right. Jewelry Edit filled in the staples that were effortless and made me feel great plus sprinkled in those unique pieces that I didn't know how to find.

Monica V.
Discovering diverse designers with new and unique perspectives is critical to my jewelry shopping criteria. Through The Jewelry Edit I've discovered numerous new brands I'm thrilled to wear

Eli J.
# E D I T E D M Y W A Y
get inspired and tag us @jewelryedit