The jewelry edit x natural diamond council
Back to Edit Ready to share and learn
COFFEE, CROISSANTS AND GROWING YOUR JEWELRY BUSINESS
Last week we had the opportunity to partner with the Natural Diamond Council to host a roundtable discussion for our diverse designers. Our mission was to foster mentorship, share ideas, and learn from experts.
We had the pleasure of hosting designers from The Jewelry Edit and members of the Natural Diamond Council Emerging Designer Initiative.
Our founder, Rosena Sammi, creating a sense of community
Sometimes when there are no seats at the table you have to build your own and our founder Rosena Sammi understood this very early in her career. As a woman of color navigating business in the white, male dominated field of jewelry, she has experienced first hand what it's like to not feel represented. It's a part of what fuels her passion at The Jewelry Edit to support diverse designers and provide mentorship to the artists shaping this field's future.
Sometimes when there are no seats at the table you have to build your own.
Designers behind Jam + Rico, Third Crown & Artifacts
Experts shared their knowledge on legal issues, brand partnerships and jewelry production
Tara Levy and Grant Mobley of the Natural Diamond Council, Deborah Shapiro, partner at Moses and Singer
Elisheva Jasie founder of Alchemy7 with designers Malyia McNaughten and Lauren Newton
Providing resources and connections for emerging diverse designers is key to enabling their growth.
Experts shared their knowledge on three key areas essential to growing a jewelry business. First, Deborah Shapiro, a partner at the law firm Moses and Singer, shared the fundamentals to setting up a business and protecting your intellectual property. Second, Elisheva Jasie, founder of Alchemy7, gave a behind-the-scenes look at brand partnerships and collaborations. Third, Christina Baez of Daniel Casting, shared the basics of soup-to-nuts jewelry production based right here in New York City.
This was followed by an interactive Q and A session and an opportunity to network. Ultimately the goal is to create a sense of empowerment and community, so after the coffee is drunk and the croissants are eaten, there's a network our diverse designers can reach out to. Investing in mentorship programming is important to what we do at The Jewelry Edit and we were thrilled to partner with The Natural Diamond Council in hosting this event.
An interactive discussion and an opportunity for empowerment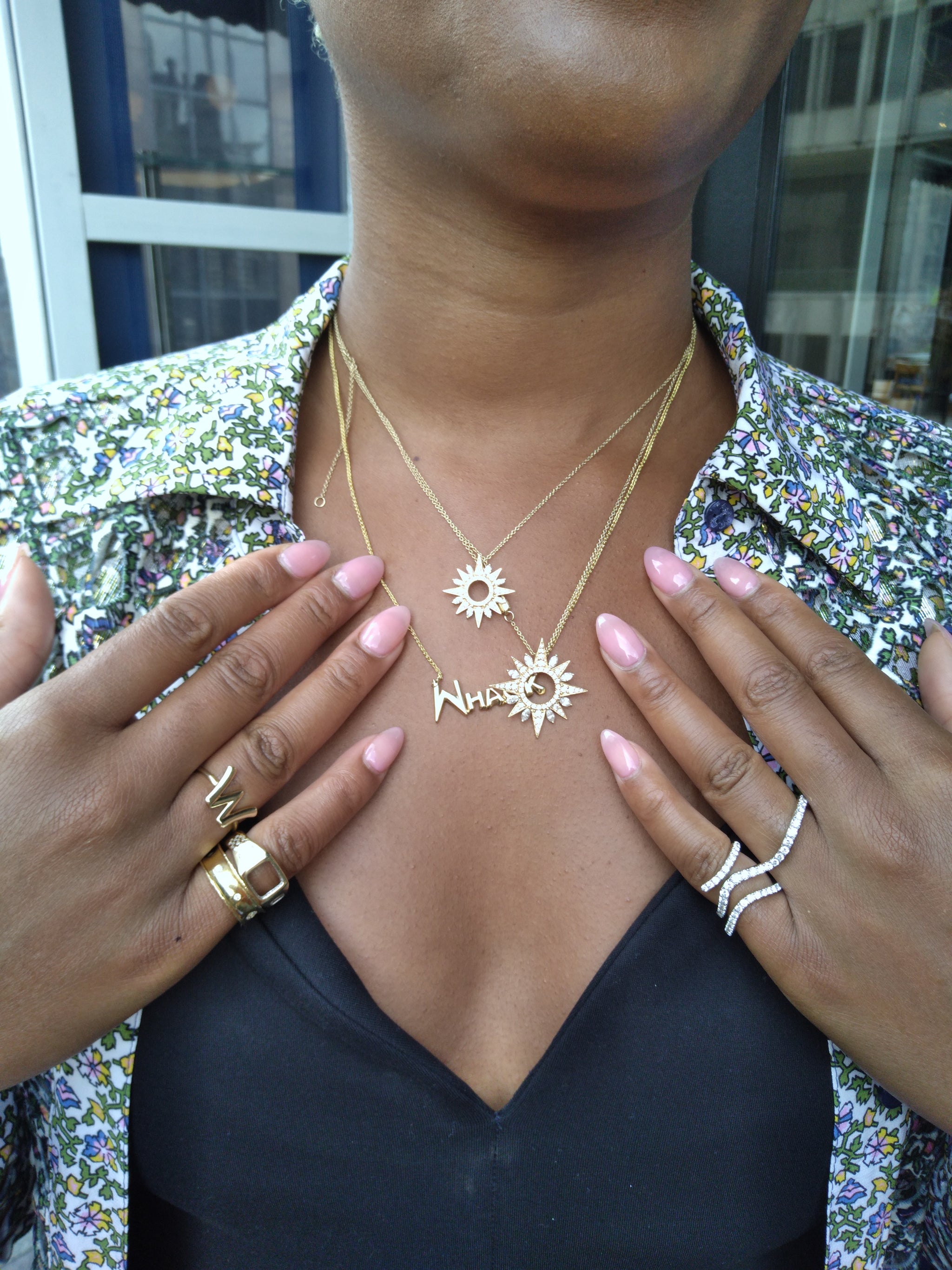 Fine jewelry by Made by Malyia
Fine jewelry by Artifacts NYC