Lindsay Price: How She Does It
Striking a glamorous pose is all in a day's work
Sitting down to write a "day in the life" piece is ironic.   Not just because it's the first time I've found a minute to sit down all day, but it's also a bit challenging considering no two days are even remotely the same in my ever-changing world.   
Life as a wife and mother of two boys under ten probably looks a lot like it does to any woman with a young family. We're run off our feet, dizzy with the hustle and bustle of school, sports, and social schedules.   We're everything and everyone to our little loves. When our days blur and feel too ordinary, all we're looking for is a little sparkle and shine.   
Sometimes, my life gets even more unusual because I'm an actress. I have to be ready to switch into character and turn on the glamor in the blink of an eye. Luckily, I'm used to playing all sorts of roles at home and on set! 
On set, the professionals execute the looks
When I'm working fulltime on a show, I tend to roll out of bed and into hair, makeup, and wardrobe. But as an off-duty actress and on-duty mom, life is a little more unpredictable. Surprisingly, it takes a lot more thought when it comes to style.
Here is a glimpse into a day in my life:
6:01am – I set my alarm to 6:01am every morning. Chances are one of my two boys will wake me up before the alarm goes off. If not, the only thing interrupting my sleep is that alarm to get me up and going for the day – and that exact time just happens to be when I feel luckiest, so I've made it into a morning ritual. 
I quickly head downstairs to get breakfast on the table and pack the boys' lunches and backpacks, but before I do, I always make sure to do my "bare minimum" skincare routine: wash, brush, moisturizer, and sunscreen. I also put on what I refer to as my "mom uniform": a combination of my cozy, all-purpose Jenni Kayne fisherman's sweaters, Redone jeans, and Margaux flats in winter, or a floaty day dress in summer. 
"A touch of jewelry makes it feel more special and starts my day right."
6.01am—it's a morning ritual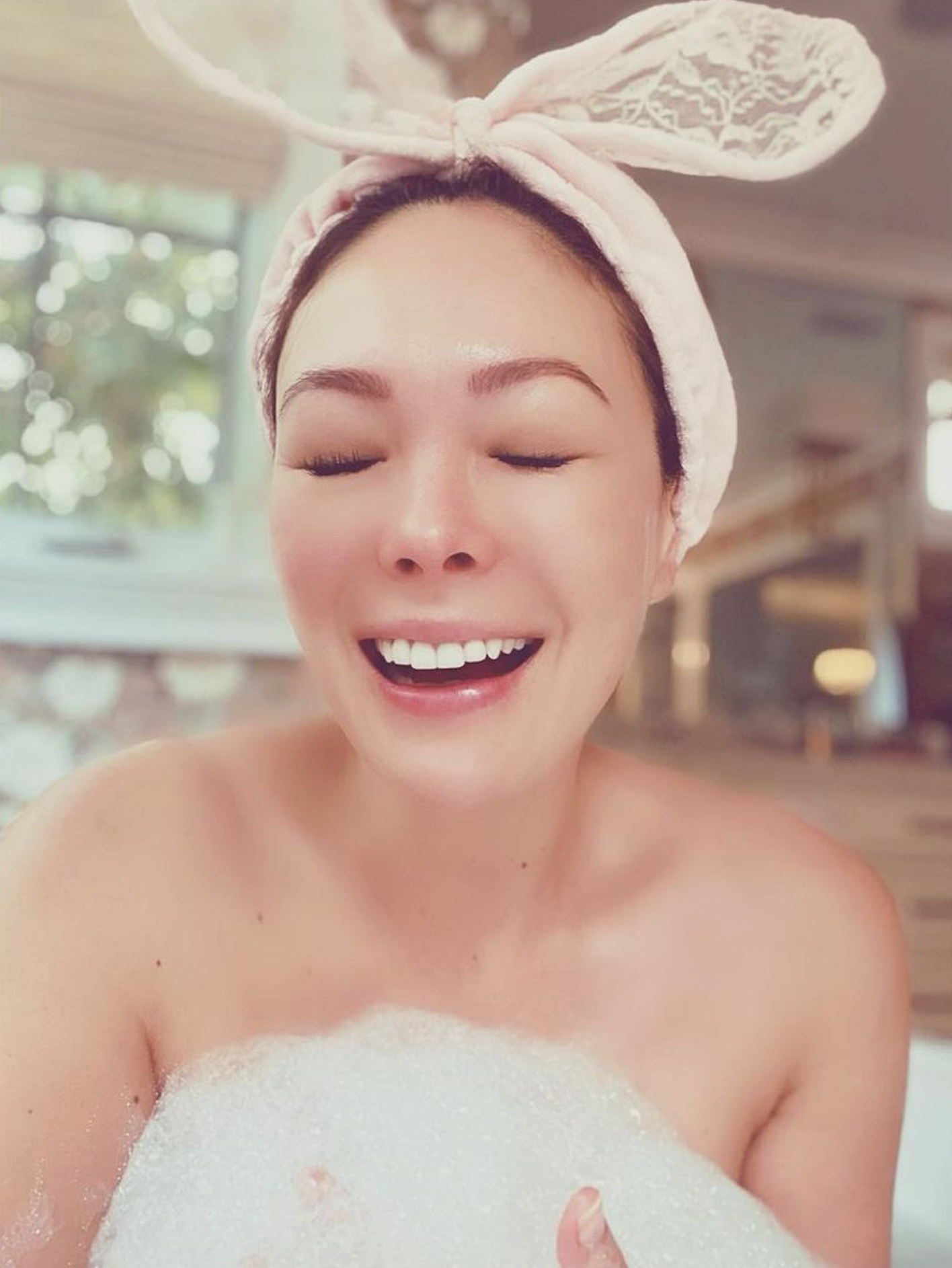 The bare minimum: wash, brush, moisturizer and sunscreen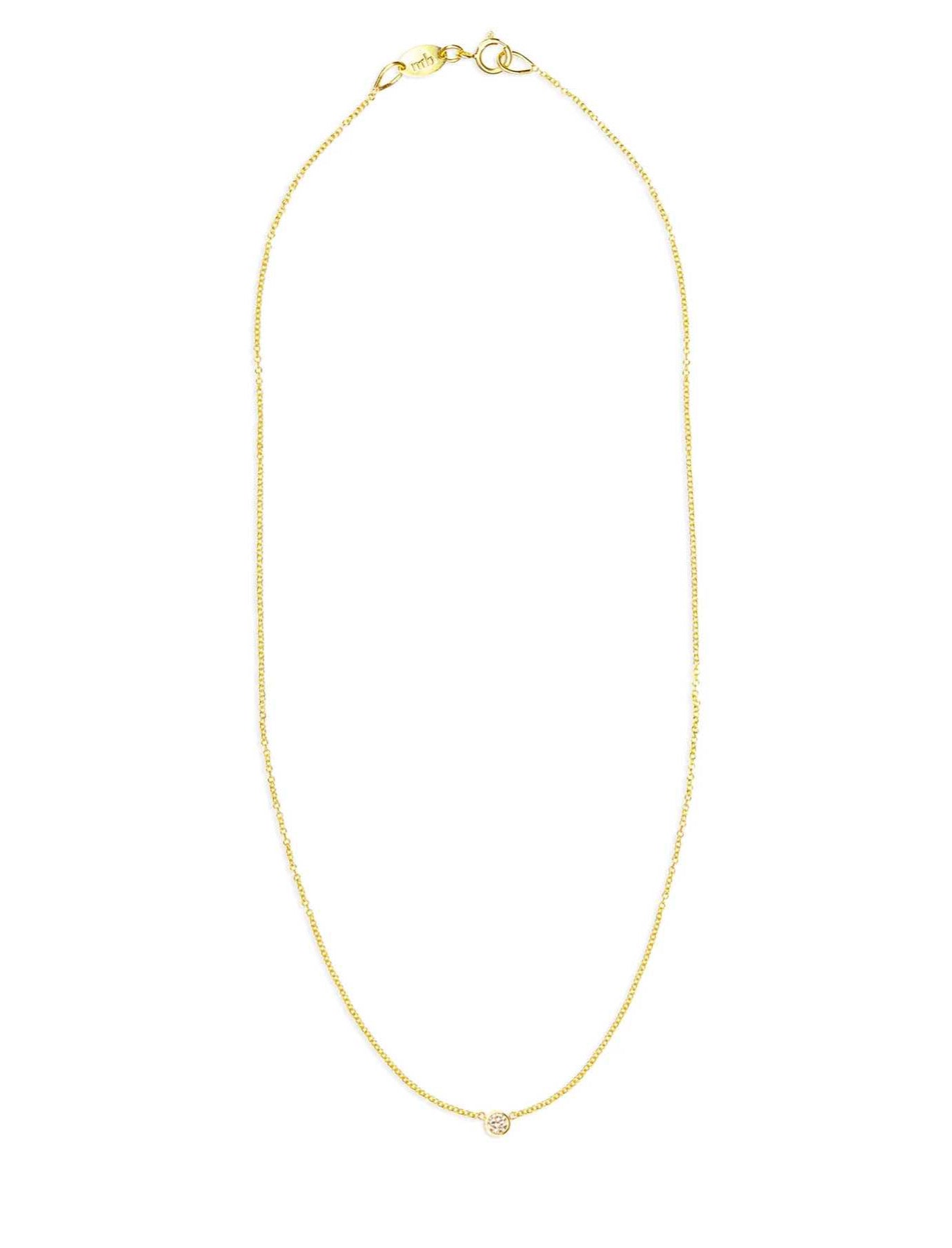 Wearing jewelry with intention. Here a floating diamond necklace by Maya Brenner
A touch of jewelry makes it feel more special and starts my day right. The pieces that make me feel the most "me" are the ones with the most sentimental value. I wear them day in, day out, and sometimes even sleep with them on. I'll rotate them depending on if I have a shoot or a special event, but I keep a few in heavy rotation. Jewelry that I connect with—that tells a story—is so important to me.  
A single floating emerald necklace that my husband, Curtis, bought for me during my "emerald year" when Jupiter, the planet of abundance, expansion, and good fortune, smiles on your sign, manifesting bountiful new opportunities in life. It's when all the hard work pays off and you step into your power. A dainty diamond eternity band that I've worn since I was sixteen, inherited from my mom, which she was given by my dad on their ten-year wedding anniversary. For some reason, Mom slipped it onto my finger when I was sixteen and I've only ever taken it off a couple of times in my life. My wedding band and engagement ring.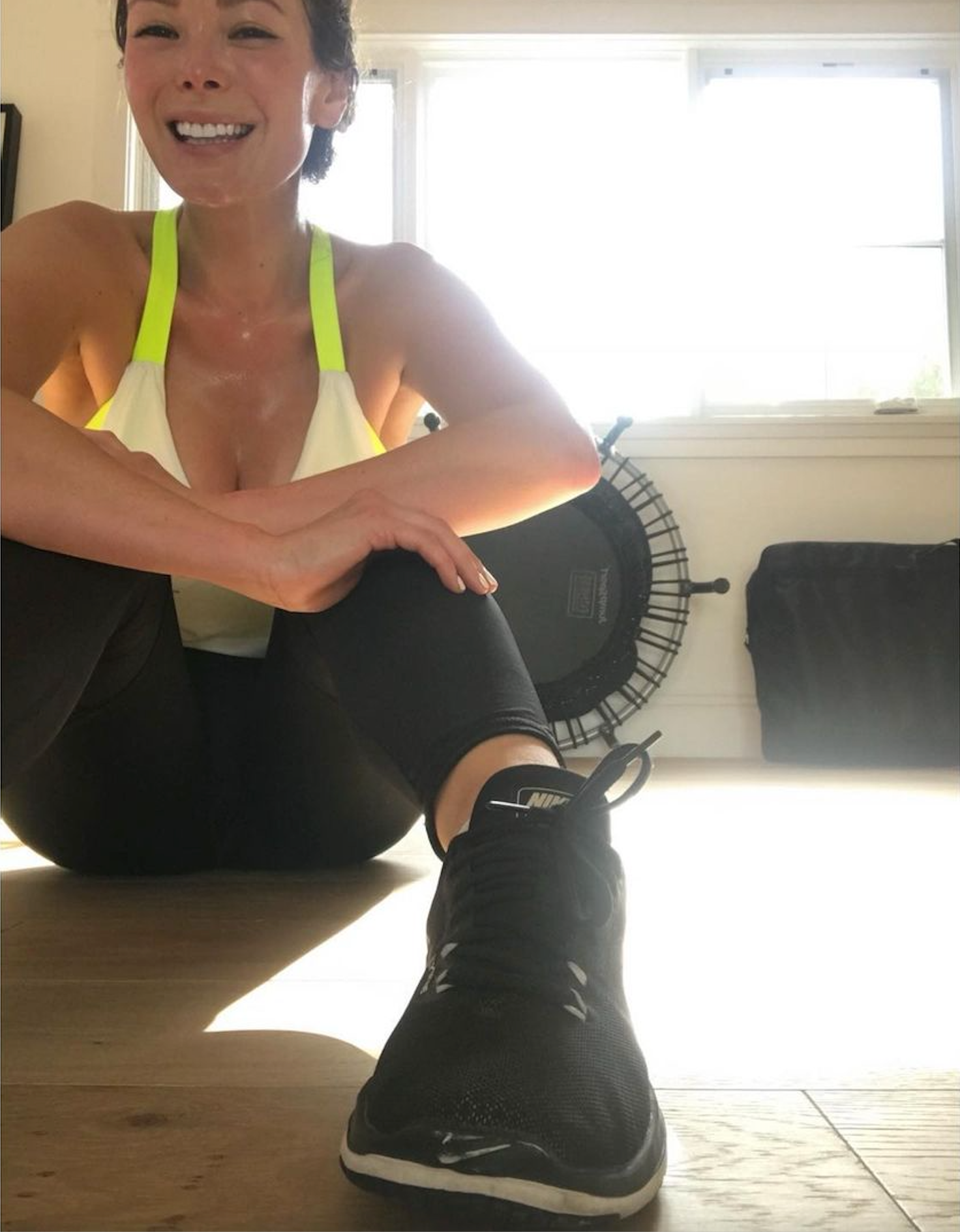 Self care is squeezing in a quick workout
"The pieces that make me feel the most "me" are the ones with the most sentimental value."
8:30am – Home from dropping off the kids at school.  Today, I have a packed schedule so I go through my calendar and make sure I know what's coming up. I cherish the time in the morning when the house is quiet and I can slowly enjoy my second cup of coffee and do some focused, deep work.
I squeeze in a quick work out online with FRMATION, take a shower, then read a script for an audition tomorrow – I have to memorize thirteen pages by 2pm tomorrow!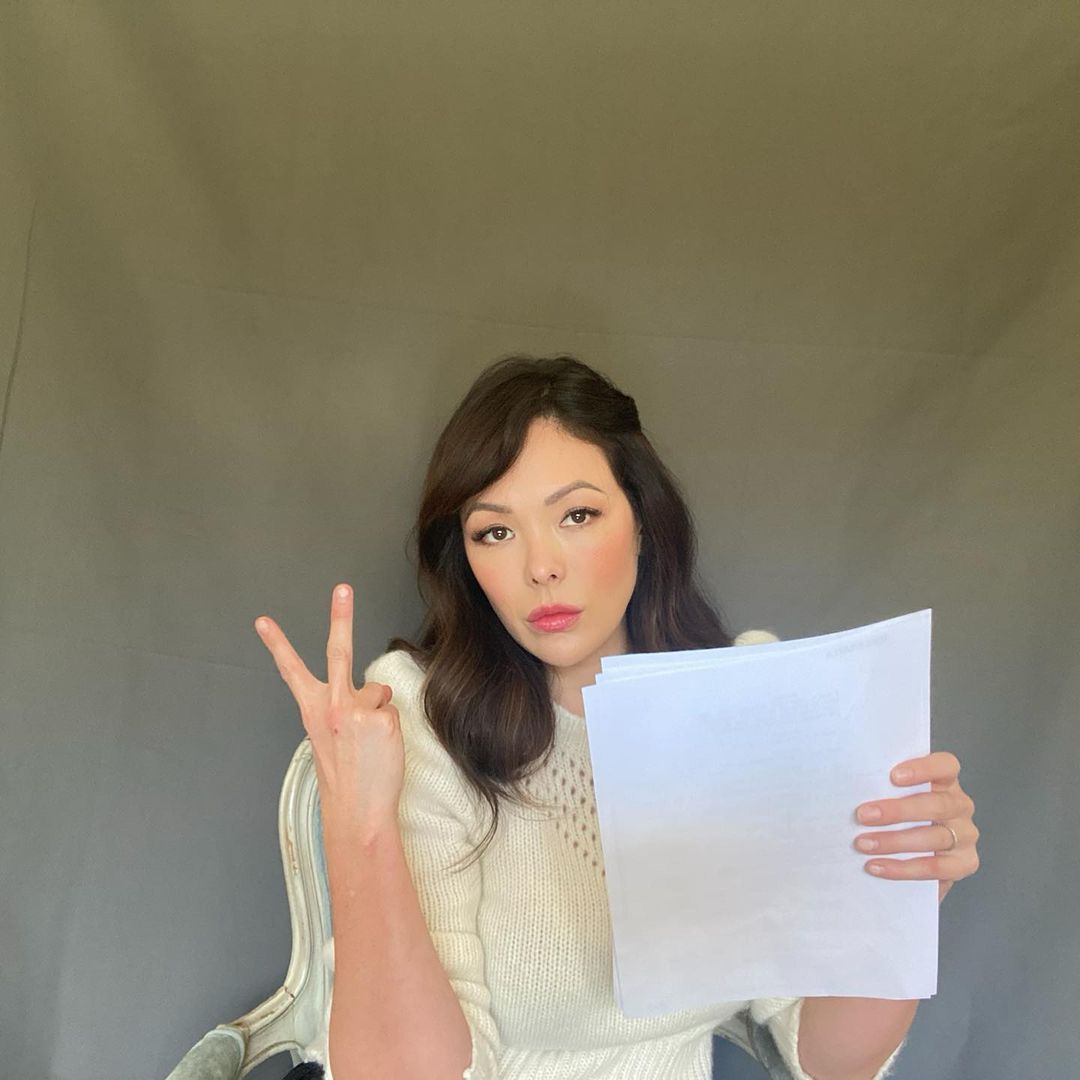 Getting into character for an audition
Ranch life means making new friends
A great statement earring: Mini Madelines by Mignonne Gavigan
I also have to run out to our new ranch to meet with an architect, then stop by my manager's office for a quick catch-up and meeting with a potential writer for a project I'm developing about my mother's life. It means so much to me that I really want to do it justice.  On days like this, I keep my wardrobe simple and throw on a great statement earring like the Madeline Earrings by Mignonne Gavigan or Gold Blossom Earrings by We Dream In Color, which effortlessly elevate the look. It's amazing how they can transform your look and attitude. 
12:00pm – Meeting with the architect.  My new ranch life is a fun one but it certainly requires a different wardrobe, so I've got my trusty ReDone jeans on with a classic white button-up, Ralph Lauren wool tweed blazer and Hunter boots. It's been raining and the vineyard is so muddy! If I'm spending all day at the ranch I'd keep my jewelry classic and comfortable, but with an updated twist.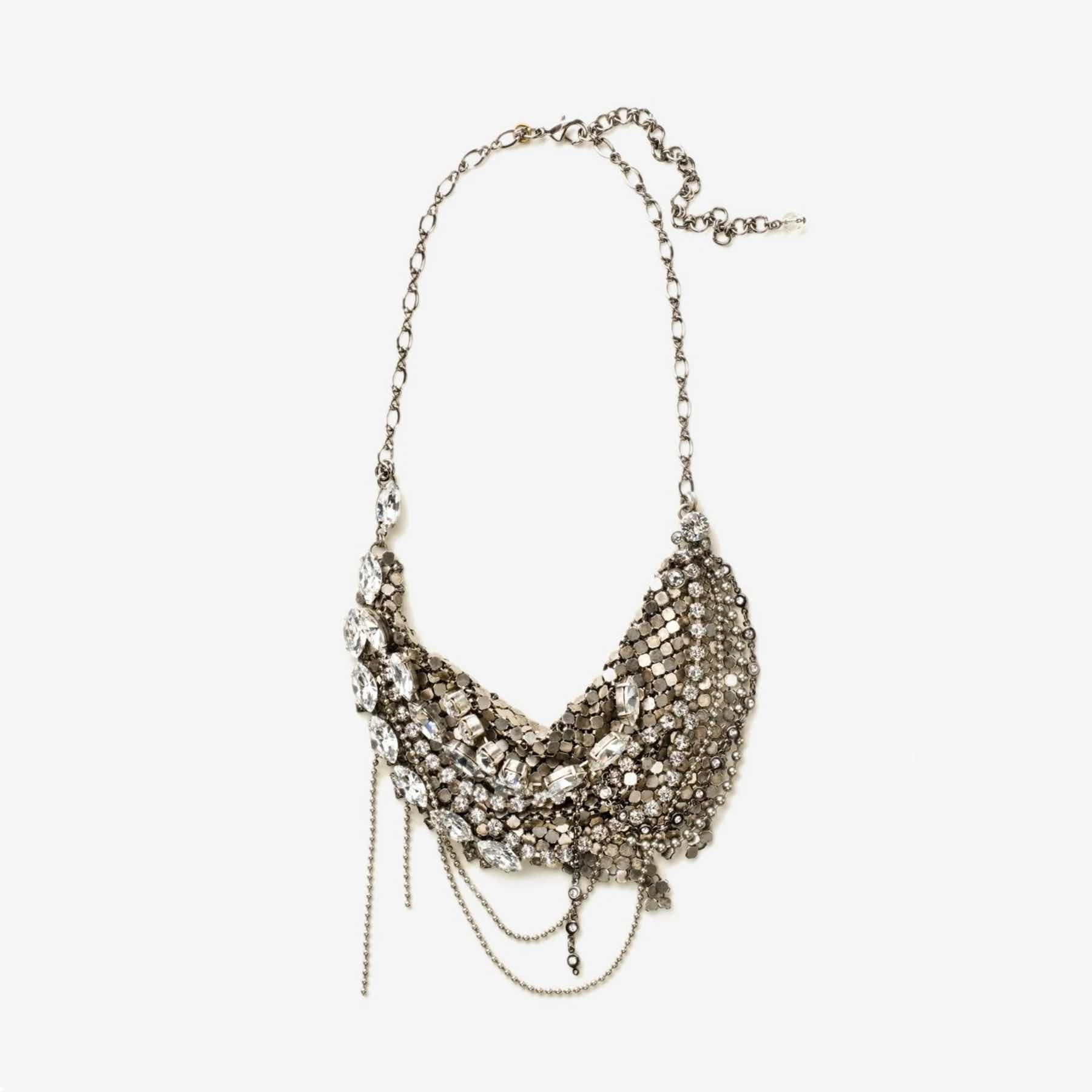 The Meant To Mesh Bib Necklace by Sorrelli
1pm – On my way to Beverly Hills to meet with my manager. I switch out the Hunter boots for black suede Manolo BB pumps and a bold necklace by Sorelli like their Meant to Mesh Bib Necklace that I put in my purse before I left home as I knew I'd want to wear it – it's such a sophisticated statement piece.  
2:45 – Meeting over and I'm rushing to get to the bus stop to pick up the kids! I check my emails. Another audition came in, this time for a new Netflix comedy series. Once the kids are asleep, I'll have to stay up late and prepare for it after tomorrow's audition.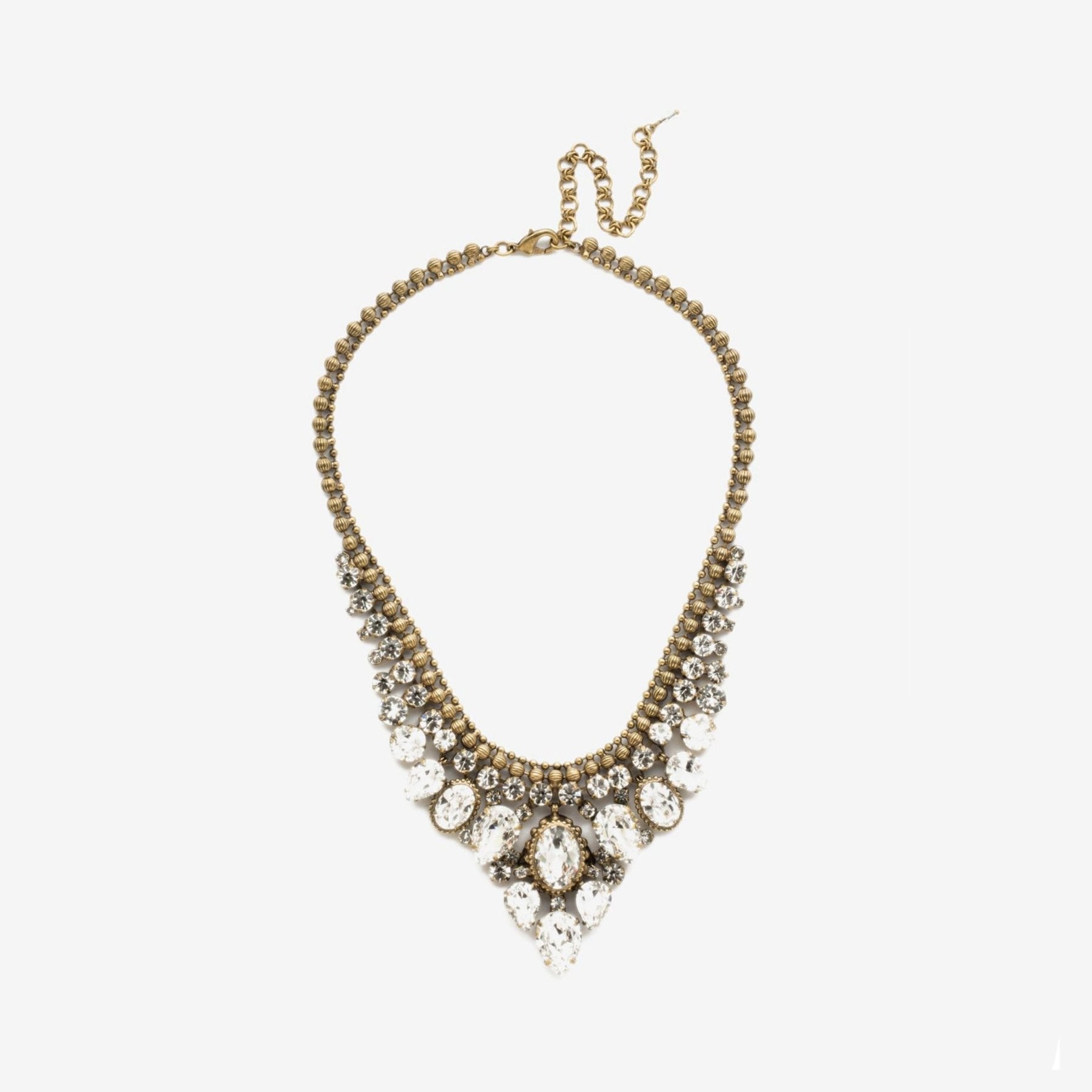 The Protea Necklace by Sorrelli
3:30 – Home now with the kids. I make them a smoothie and get them started on their homework.  Hudson needs to be dropped at basketball practice and Emerson has football. Lucky that Grandma's here to babysit tonight. Curtis has made a chicken pot pie that Grandma can heat up for her and the kids, since we're going out tonight.  Curtis and I are hosting friends for a cookbook launch and cocktail party followed by dinner at Curtis' restaurant, Gwen. But right now, I have a quick call with Adopt Together, the amazing non-profit I work with, about auction items for our recent fundraiser, and then I enjoy a quick rejuvenating bath before getting ready. 
Earrings by Rosena Sammi take center stage
5pm – When I get the chance to go out, I love to go really glam. Tonight, my earrings are the jewelry centerpiece and they're none other than a pair by Jewelry Edit founder and friend, Rosena Sammi. I've chosen a simple, elegant green silk Self Portrait dress with a low neckline to let my jewels shine.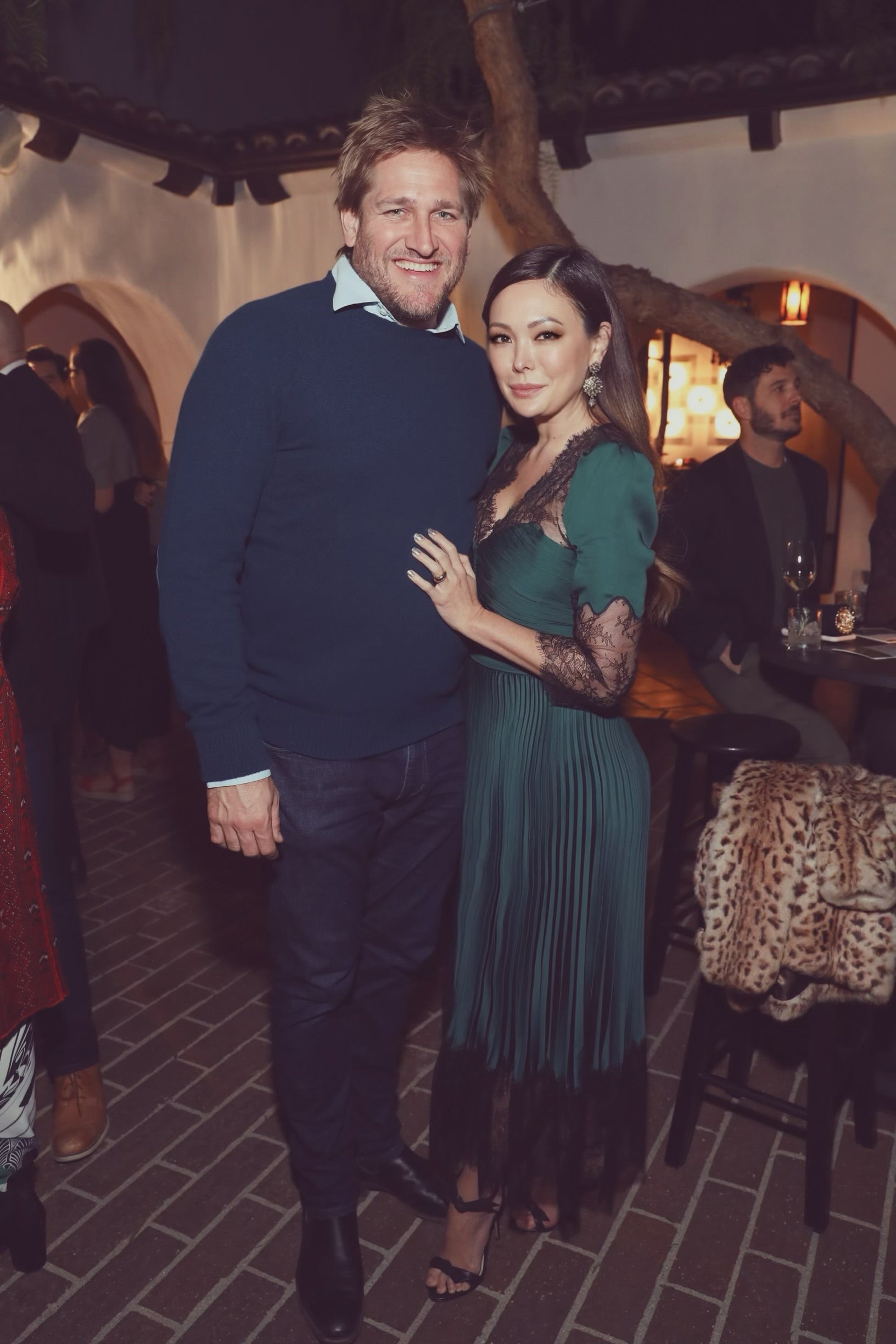 Lindsay and her husband, Michelin-Star Chef Curtis Stone
"When I get the chance to go out, I love to go really glam."
7pm – The party is in full swing on a mild California winter's night. Dinner is delicious and the night is a success, but I'm counting the hours of sleep I will get tonight before a huge day of auditions and more audition prep tomorrow. 
11:15pm – Home again after a long day. Curtis and I recap the day and we check on the kids.  I remember to take my Rosena Sammi earrings out and put them in their case on the nightstand, set my alarm for 6:01am, then I'm asleep before my head hits the pillow.
SHOP LINDSAY PRICE: HOW SHE DOES IT