It's Time To Rethink Cheap and Cheerful Jewelry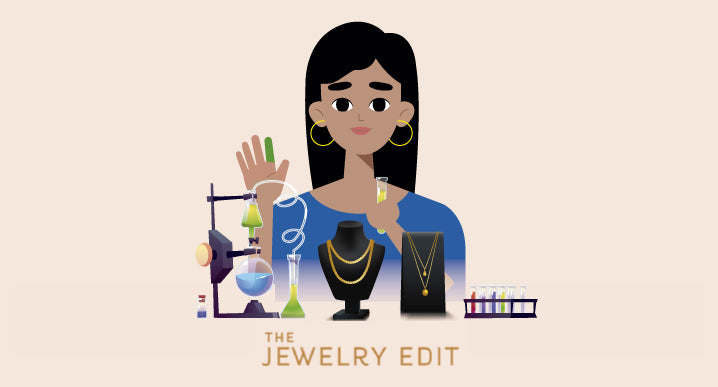 Picking out a piece of jewelry is both a personal and an intimate act, but did you know it could also be a risky one? We live in rapidly changing times, and though this is not a think piece on the pandemic, it is an opportunity for me to share some of my thoughts, knowledge and best practices on how we can keep ourselves adorned and educated.
As a designer who has created jewelry for global department stores and accessories chains, I've felt firsthand pressure to produce collections in the quickest and most economical way. But this fast-fashion, profit-making strategy is an equation that churns out low-cost, low-quality products, often with disregard for ethical and eco-friendly practices. We can do better as producers and consumers to uphold a more enduring business model while also making desirable, affordable costume jewels.
Part of the problem is the impact social media has had on our buying and spending behaviors. Aspirational images are so prolific and rapidly translating runway trends into available, affordable looks means there's a lot of costume jewelry being manufactured and bought without proper end testing being conducted. Motivated by the fantasy, we buy cheap items, largely mass-produced in China, and face ongoing regulatory challenges around checking these imported products before they hit the selling floor. How do we know for sure if what we're buying contains lead or other harmful materials when it's so difficult to enforce the laws? 
Overconsumption feeds overproduction, reinforcing the accessibility of acquiring instant gratification. Yet, this prolonged pattern leads to environmental degradation, and, over time the eventual loss of resources. We all need to rethink our buying of junk jewelry, regardless of how pretty it may be.
Obviously, all that glitters is not gold. Often the baubles, bangles and beads that consumers are gravitating to contain toxic metals like lead and cadmium. Lead is used in fashion jewelry manufacturing because it's a low-cost alloy that adds weight, brightens colors and offers support to structural and decorative components of the pieces. There are many attractive properties to lead, including its high density, malleability and lubricity — not to mention that it can be alloyed with other metals — that make it an effective choice for metalsmithing. However, one highly unattractive quality is it's danger to the health and safety of the wearer. 
Yet as consumers, we know very little about what's in fashion jewelry and how it's made, and we need to educate ourselves. There are many risks associated with the toxicity of lead, which is not biodegradable, and accumulates in our bodies. It has a direct impact on the nervous system, especially during the early stages of child development. Some of the risks fall upon the end user, with the most critical being among children who can ingest lead, making it especially dangerous when used in kids' jewelry. Importantly, other hazards befall the jewelry makers who can inhale lead in poorly ventilated workspaces. Many manufacturers began substituting cadmium for lead as a result of its similar properties of adding mass and a shiny finish, but there are a host of health risks associated with this metal, too.
Nevertheless, over the last decade, the dangers of lead in jewelry have received increased attention. The EU and Canada were among the first to alert the public to the dangers of lead, and the proliferation of its incorporation in costume jewelry. Stores like Target, Walmart, Claire's, Aldo, Forever 21 — even Nordstrom Rack and Saks Fifth Avenue — and the list goes on, have many well-documented cases of selling jewelry with high lead and cadmium counts. In the U.S., California has been at the forefront of the movement to remove toxic substances from costume jewelry through legislation and strict enforcement against those in breach. Under this law, nobody is allowed to manufacture, market and import or trade jewelry with a lead count exceeding 500ppm (parts per million) for adults and 100ppm for children. The counts for cadmium carry similarly strict limits. These dangerous metals are also included in the list for Proposition 65 that requires businesses provide warnings to Californians about significant exposure to chemicals that cause cancer, birth defects or other reproductive harm.
Shoppers are buying more jewelry and its not that they don't have the financial power to buy better quality, it's more a circumstance of wanting things quickly and cheaply that perpetuates the pain point. In order to welcome something new into our lives, we often have to say goodbye to something else. It's a matter of shifting our mindset. Educate yourself and your community. Research safer alternatives and remember your jewelry can signify more than a passing trend.
We need to be the champions of meaningful purchases and the whistleblowers for the economic, environmental and societal impact of not only purchasing fast-fashion jewelry, but for buying into the greater, longer term harm it can inflict on our bodies. So the next time you're lured by trendy statement earrings, necklaces and other accessories that cost under $25, think again. Sure, trends can be fun, but fast fashion pulses out one-sided trends rather than long-lasting pieces that are made and sourced responsibly.
---